They say you have to spend money to make money.
But often 'they' are people who are trying to sell you something (!).
It's certainly true that spending money is not an automatic method to riches – if it were then we would all be very wealthy. But spending money can give you access to new ways to increase your income, if you spend it wisely on the right things.
Millions of people know this to be true when they sign up to attend university, so it's funny that it took me a while to realise that spending money on education and new experiences AFTER university, can have huge benefits.
The Saver Becomes the Spender, but with Unexpected Results
When I first graduated I was a really good saver.
In short, I saved.
It was really rewarding to me to watch my savings account grow and eventually I started investing my savings and watched those grow further.
I found saving so powerful and fulfilling that I even started  a blog about saving and investing (Hint: you're reading it now).
But after saving for a few years, I reached a turning point and I ended up SPENDING LIKE CRAZY in 2011….18 flights in total, a new laptop, and even some 5 star hotel visits!
But, despite all the spending, my income and savings grew too, and I got to meet the most amazing people and became inspired to play a bigger game in life.
For me, it was money well-spent.
And I've experienced first-hand the 'spend money to make money' expression: Because I DID spend money which allowed me to make more money!
Of course I had to put in the work but I've become much less hesitant to spend money if I can see how I can grow as a person and learn how to earn more money in the future.
I have a long life ahead of me, hopefully, and spending money on education and building a network, should help me exponentially in the future.
Spending Money on Education and Inspiration
I got to meet many sources of inspiration on my recent trip to America, including Chris Guillebeau. Chris is a hugely accomplished writer and adventurer who's travelled to almost every country in the world (soon to be all of them!).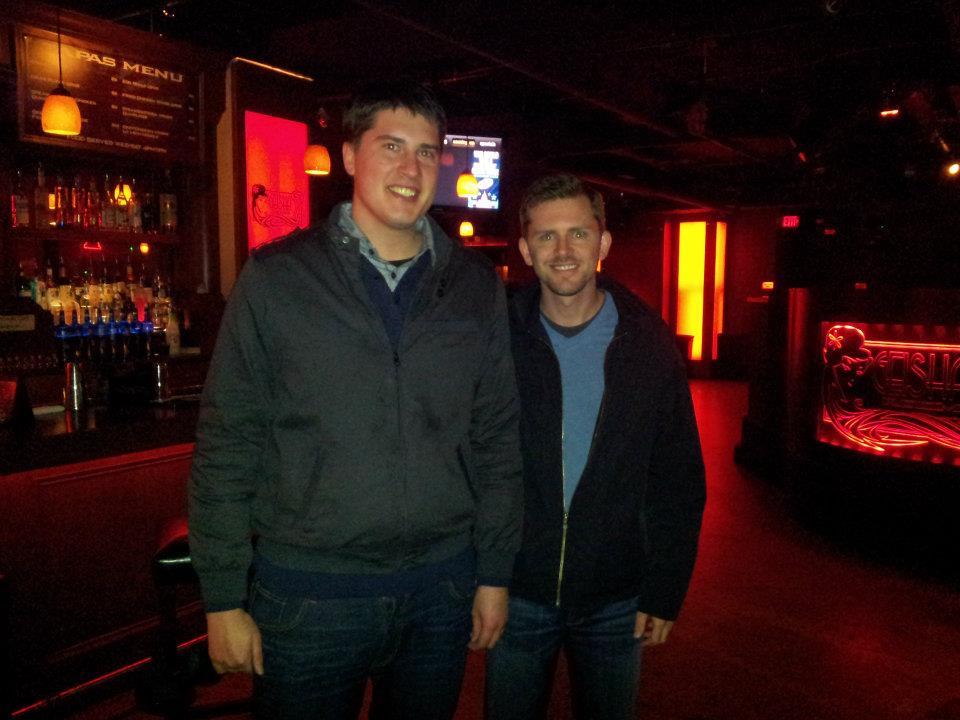 Meeting Chris
Chris' most recent book is called the $100 dollar startup, which details how thousands of people have started businesses with less than £70 in their pocket and become huge successes.
I'm a big believer in both Chris and his message – and have actually achieved the very thing he is writing about, now that I'm self-employed and making a 4 figure monthly income from my adventures on the internet (which I started with just a website that cost me £6 a month for hosting).
So if you want to read the book, you're in luck.
It's not out for a couple of weeks but you can get it shipped to anywhere in the world (including the UK). It's currently available in a larger bundle of business products around £60. And I think you should definitely buy the lot if you want to grow your pennies!
Along with the real-life book posted to your house, you'll get £600 worth of information products about business for around £60!
But only for the next 72 hours….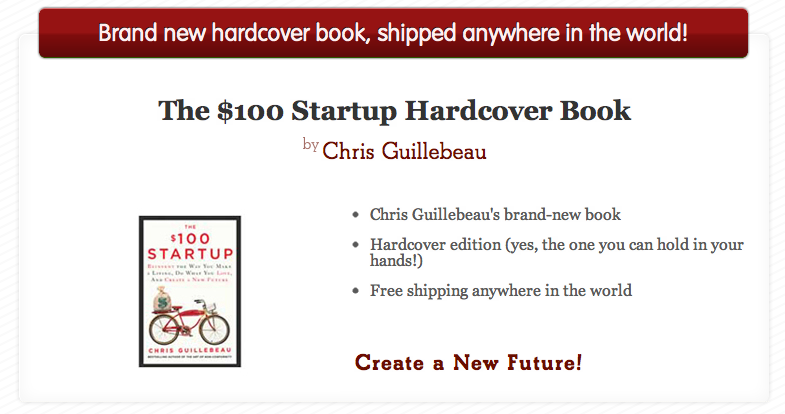 As above, in addition to the hardcover book shipped anywhere in the world, this special bundle of information products at 90% off the true value.
Below is the full low-down (prices are in dollars so just imagine 2/3rds of the price for a dollar to British pound conversion…it's a bargain in any currency, but only for 3 days!)
Products in this Only72 Sale (18 total):
Chris Guillebeau's The $100 Start-up Book (Hardcover w/ shipping included)
Better Blogging ($177 in value) 
Corbett Barr – Creating, Marketing, and Designing A Blog That Matters ($40)
Susannah Conway – Blogging From The Heart (eBook version) ($137)
Passion-based Business ($137)
Jonathan Mead — Identifying Your Passion Module + Workbook ($97)
Scott Dinsmore — Live Off Your Passion (lite) ($47)
Freelancing ($111)
Ashley Ambirge — You Don't Need A Job, You Need Guts ($40)
Men With Pens — Freelancer Package: Unbelievable Characters, Guest Posting Guide, Beyond Brick & Mortar eBooks ($70)
Confidence & Courage ($129)
Johnny B. Truant — Tao of Awesome ($79)
Marianne Elliot — 30 Days of Courage (w/ Yoga Module) ($50)
Selling & Advertsing ($144)
Pam Slim — Ethical Selling That Works ($97)
David Risley — Double Your Ad Income ($47)
Technology & Systems ($171)
Joshua Kaufman — The Personal MBA Guide to Small Business Infrastructure ($49)
Free The Apps — How to Make iPhone Apps ($97)
Brett Kelly — Evernote Essentials ($25)
Artists & Writes ($130)
Alyson Stanfield — Turning Your Hobby into a Career (download & audio program) ($51)
Chris Guillebeau — Unconventional Guide to Publishing ($79)
Click here to get all the above, but make sure you do it before by Thursday at 5pm UK time.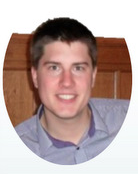 They say you have to spend money to make money.
In this case, I hope I HAVE persuaded you to buy this great set of products for a hugely discounted price, available for 3 days only.
I can genuinely say these writers and similar products have helped me grow my magical pennies, so I had to share this with you so you can do the same.
Adam