…to be more specific, you shouldn't consider your primary residence, the house you live in, as part of your long-term wealth and investments. This article will explain why: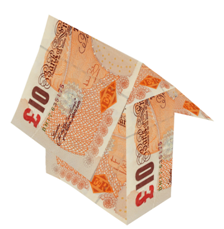 For many of us in our 20s and 30s buying a house is a big goal that's either staring us in the face or coming up on the horizon. A house is likely to be the biggest purchase we will make in our lives and it's a likely trigger for beginning to think about saving money and growing pennies.
However, whilst saving for a house deposit is an admirable goal it shouldn't stop you from begin investing for even longer-term savings goals like retirement. It's not OK to just be saving for a house. Here's why saving for a house isn't enough:
Renting from the bank
You may be tempted to rush into buying a home because 'it's an investment' and you want to avoid 'throwing money away in rent' (phrases I've heard my friends and people online say all the time). Yet paying for a roof over your head is largely unavoidable: even if you own your own home: in the early years of a mortgage only a fraction of the monthly payment is going towards to the 'principle' (the money you owe on the house). Most of your money is going towards the interest your mortgage provider is charging you each month. You are essentially renting so the amount of money you're contributing to any 'long term' investment like a house is very small. You should therefore be making provisions for more meaningful long term investment plans while you are still young.

A lifestyle investment
Most people consider a house to be an investment: certainly it is worth a certain value in the market-place and tends to increase in value over time. However, assuming it's the house you are living in, then it's value is limited because you need a place to live: It offers you shelter and depending on the size and quality of its features it also provides you with a certain lifestyle. Rather than an 'real' investment it is what I call a 'lifestyle investment'. As explained when exploring lifestyle inflation, with any lifestyle investment it comes the 'norm' for you. Regardless of any appreciation of house prices you are unlikely to want to down-trade in house due to lifestyle inflation so the relative investment return for your house is 0%!
Real investing is about reducing today's lifestyle to put your money to work for a secure financial future tomorrow. Pouring money into your primary residence may give you a secure place to live in the future but this alone will not help you grow your pennies long-term. You need other investments in place as you commit to your future today and the sooner you start, the better.
Playing with leverage
Leverage in financial terms is taking advantage of movements in value using extra money. For example if you were playing roulette and only had a £1 but had a strong feeling that the ball was about to land on red, you could leverage your prediction by asking me if you borrow £9 to put on Red. If the ball did land on Red you could return my £9 to me and you could keep your winnings: the £1 from your own bet and the £9 winnings from my money! You just made an extra £9 even though you only had £1.
Leverage is what makes property so appealing. You may only have £10k but if you then borrow £90k on a mortgage you can 'afford' a £100k house. If that house then goes up 10% in a year and you decide to sell you'll have a £10k profit –add that to your original £10k and you've doubled your money!
However leverage can work the other way. If the ball had landed on Black in the roulette example you would owe me my £9 even though you only had £1 to bet with and you've lost that too! With houses if the value goes down even a small amount you can find yourself 'upside down' –owning more money that you ever put into the house. You would be trapped in the house until you could sell it and pay off the rest of the mortgage that the house sale couldn't cover. If you needed to sell and house prices dropped 10% in that year you'd be in trouble: trying to pay off an extra £10k debt can wreak habit with your mission to grow your pennies!
Poor flexibility
For those of us in our 20s who have not settled into our careers or a particular location, a house, (or rather the leveraging mortgage) is not an investment but rather it's a dangerous liability (debt) that's not worth the trouble: that is until you have saved a big enough house deposit to not worry about being 'upside-down' should you need to move after your house has lost value.
Houses are also one of the most expensive and inflexible 'investments' as anyone who has tried to sell a house will be able to tell you! Unlike other investments like shares that can be sold in batches and almost instantaneously on the open market if you need to sell quickly, a house is pretty hard to sell brick by brick!
Buy and Invest!
Ultimately anyone who is actively working towards saving for a home is doing a great job as they must certainly have a great mind-set and vision for what they want in their future. This is great and they get the Magical Penny Thumbs Up!
However, buying a home is not automatically a good move, especially if it comes at the expense of being prepared to save separately for the long-term. Inflating your lifestyle by buying a home can be a great move at improving your quality of life but don't think that investing in a home is simply enough to secure a comfortable financial life in the future.
Thankfully you don't have to choose between saving for the long term and for a home (or dutifully paying on a mortgage). You can do both –even if you can only afford a small amount to channel into long term savings, the likely returns will help your pennies grow over the long-term and will prepare you for another one of the biggest purchase you'll ever likely to make: buying your financial freedom!
What do you think?

This article refers to the problems with considering your primary residence as an investment. The subject of investing in property as a investment asset class (as discussed in some brilliant and recent comments) is a different issue and will be covered here on Magical Penny soon.