Last week's post exploring a house as a asset caused an interesting stir in the comments and I thought it definitely worth-while exploring it further as I make the case to find space in your budget for investing before showing you how to actually do it!
We all have only so much money to spend each month. Food, utilities, shelter and a host of other expenses all come out of accounts and sometimes it's a balancing act to afford everything we need and want. So when it comes to growing your pennies the first challenge to having enough to live the life you want to lead and have any left for the future. One big monthly expense that can make or break your financial life is your housing. Naturally then, it's a topic worth exploring if you are to successfully grow your pennies in the best way that works for you.
'Real Estate': Britain Vs US
'Real Estate' is an America term for housing property and land. And in the UK we have less of it than larger countries like the US. As Britain is a tiny island and a growing population our land therefore comes at a premium. When it comes to Real Estate this means that most US houses are cheaper per square metre, but also are larger than most British houses – although this is not hard as, according to the government's adviser on architecture, Britain has the smallest newest built houses in Europe. Therefore for a comparable home UK houses are generally more expensive than in America.
The rush to being 'priced out'
I make reference to this because with more expensive housing already and  house prices in the UK growing considerably over the last few decades it's a wide-spread belief certainly amongst my friends that you should get on the housing ladder as soon as possible to avoid being  'priced out' of the market.
"We surely must buy now before house prices rise further and become truly unaffordable"
This rush to buy has lead to some interesting demographic patterns as explored by a study by the Institute for Fiscal Studies in University College, London:
"As a proportion of their total wealth, British households hold relatively small amounts of financial assets – including equities in stock – compared to American households. In contrast, British households appear to move into home ownership at relatively young ages and a large fraction of their household wealth is concentrated in housing. Finally, the age gradient in home equity appears to be much steeper in the UK while US households exhibit a steeper age gradient in stock equity."
You can read the full study here
A Cultural Difference?
This conclusion certainly seems to be case amongst my peers. As I prepare to enter my mid 20s more and more of my friends are moving towards home-ownership yet I don't know a single one of my peers who own any stocks or shares (but I can't wait to inform with Magical Penny!) In contrast, Americans begin to invest earlier and in greater number, and it is generally before progressing to home ownership. The study reveals a telling statistic:
"British households hold 62% of their total household wealth as home equity: the comparable percent for American households is only 34%." Page 7
This is partly because British houses are more expensive but I suspect too that the culture of investing in equities (stocks and shares) is much bigger in America than in Britain. By investing in stocks and shares a larger proportion of the US population are putting their money into value-creating businesses of the biggest economy of the world, thus, over the long-term they are accumulating market returns, growing their pennies into surprisingly large sums.
Britons meanwhile have almost 2/3 of the wealth in property, which, while having the ability to grow in value, also has added costs and fees like maintenance, repair and stamp duty (the tax paid every time a house is purchased).
The Right Priorities?
The study found that:
"for almost all of the younger age-income groups UK households have at least as much wealth, if not slightly more, than their US counterparts…[yet looking across the full population] the top fifth of American households have considerably more financial wealth than the top fifth of British households do [?] page 8.
Why do British and American age-income groups start out equal but then begin to divide? Is it because the Americans have more likely invested their money into value-creating businesses rather than property?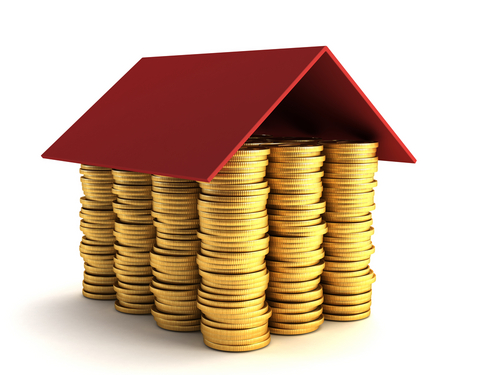 To be frank, I can't be sure as there's many factors involved. But I do think more of us should be directing own pennies to build different asset classes (types of investment) rather than focusing so much on purchasing a house.
What this mean if you want to grow your pennies?
In real terms for me this means saving less aggressively for a house deposit (although I still am) by directing part of my 'savings' pennies into stock market investments for my long-term future. We all have only so much money to spend each month but balancing your budget to include a monthly contribution towards 'investing' is absolutely a 'need' if you truly do want to grow your pennies over the long-term (and Magical Penny will be here to show you how).
What you do you think?
Before you comment I want to remind you that this article is not saying  property is a bad investment – like any investment it can be both good and bad -but that the view that property should be your first financial priority should not simply be accepted: It may be the 'default view' of many people when they begin their adult lives but have you really considered your options?
Essential reading:
Ramit cuts through the myths that buying a houses is always a good thing to do. You can even his chapter on the subject from his book for free too: Buying a  House
Is "What Works For You" really working? @Magical Penny