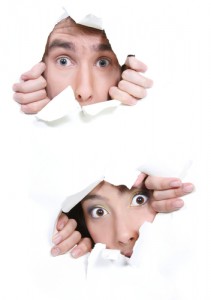 It's human nature to compare yourself to others. But does this help or hinder your efforts to prosper in the future?
Since returning from Austin, Texas in March, Magical Penny has been quieter than in previous months. I could attribute the inactivity to a particularly demanding period at my day job, or the extra time and effort I've been putting in as a founder member of a new Leeds based choir preparing for our first concert.
But that would only be half right.
When I was in Austin in March  I met amazing people every day. People who are living their dreams with no safety harness; those doing incredible things with nothing but  a laptop and a vision for what they want to create.  Inspiring entrepreneurs and crazy-fun human-shaped bursts of energy.
People like:
Nate and J$ of Love Drop
Jenny Blake of  Life after College
Tyler Tervooren of Advanced Riskology
Erica Douglass of Erica.biz
Adam Baker from Man Vs Debt
Sean Ogle of Location 180
Neville Medhora of Nevblog
Karol Gajda of Ridiculously Extraordinary
Matt Frazier of No Meat Athlete
Scott Young
…and many many more noteworthy people who I've been following online over the years and finally had a chance to meet in person.
Spending time with these people I got spine tingling shivers just hearing about their achievements and future plans. My smile was almost a constant feature of my face for over a week.
I was inspired and felt ready to make an even bigger impact on my online endeavours, including Magical Penny, upon my return to the UK.  Surprisingly though, back home I found myself staring at a blank text editor. The main reason for quietness here at Magical Penny? I had become intimidated. How could my little corner of the internet compare to all the others? Do I really have something of value to share or was I just going to be writing endless re-hashes of'spend less than you earn' .
I'm sure I'm not the only one who has felt this way after learning of the achievements of others. And, as a writer of a personal finance blog I thought it was apt because when it comes to money, overwhelm and intimidation in reaching financial milestones is a common problem.
Not convinced?
Have you ever started comparing your financial situation to others and thought you could never get to that level? Did learning about the success of others inspire you to take action, or make you admit defeat?
What if someone on your salary told you they had managed to save £5000 in the last 2 years. Would you be fired-up knowing it was possible or disheartened that it was not realistic for you to do the same?
If you've ever struggled with getting traction or making progress with your finances, the following three ideas could help:
1) Know the Importance of Attitude
As I've written before, but it doesn't hurt repeating, growing your pennies (or doing anything positive with your life really) is mostly about attitude. It's important to be vigilant to avoid burn out and sometimes allow yourself to act crazy with money once in a while. Whilst the idea of only comparing yourself to yourself  rather than to others is not a new idea, it's something that can't be said enough.
2) Play the Numbers Game
The very nature of money, that it can be quantified, means it's easier to find yourself comparing yourself to others.Using others as a benchmark can be inspiring but it is not healthy to compare yourself to others too much. To prevent becoming demoralised  I've found tracking my 'net worth' on a monthly basis really powerful. You should try it too as it will help you to know if you are moving in the right direction financially.  Also, rather than comparing yourself to others you can use your previous monthly movements as a benchmark for future improvements.
3) Do Something Rather than Nothing
Working out the best allocation of funds between present needs and savings for the future is hard. Actually getting to the end of the month with enough money is hard enough for some! But rather than waiting until your next salary increase or until you hit a certain age, you really can't do any better than deciding to start now. Start taking responsibility for your life, regardless of how old you are and your situation. Anything positive you do today, however small, will put your future-self in a better position: Who do you want your future self to be?
I want to finish this article with a reminder that it's easier to write about this stuff than to live it. But by writing this article now I like to think I'm taking my own advice on overcoming intimidation:
1) The right attitude: I truly believe this blog will continue to have  a life changing impact of those who read it and are inspired to save and invest for compounding returns.
2) The Numbers game: Tracking my progress monthly really does help me stay focussed on goals and adds personal context to the month on month progress.
3) Whilst not my strongest piece of writing, this article is testament to showing up and doing something.
What are you going to do today  to put yourself in a better position in the future?
You may also enjoy:
If you are daunted by the idea of investing thousands of pounds into things that fluctuate in value I challenge you to start small and see how you feel.
Remind yourself that you're not depriving yourself, just delaying your wants a little. By reconsidering your spending now, your pennies will go much further in the future as you give them a chance to grow into more meaningful sums.