I'm back from my first visit to America and raring to go! If you're new to Magical Penny be sure to join for free stuff and prizes by clicking here.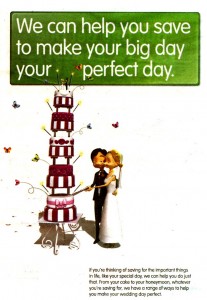 The purpose of advertising is to get you to Buy Buy Buy. But what if it's a bank advertising their savings account? They want you to Save Save Save…with them.
Banks know that saving in itself isn't the most interesting of subject for most normal people. Perhaps so, but its all a matter of re-framing  -a change of perspective.
One of the UK's high street banks is doing a good job at this at the moment.  They are selling their savings accounts by drawing on much bigger life themes:
A special holiday
A child's future
A wedding
The take home point? If you want to successfully save your pennies, reframing your savings by thinking of them as more than just numbers is key.
But how do you do it?
It's important to keep focussed on an end goal.  You may think you know what your 'end goal' is but how to do you make it less abstract and more real in the here and now?
There's lots of ways to bring about a change in perspective. Here a few ideas.
Keep a picture in your wallet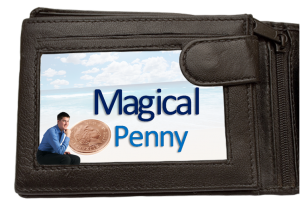 One of the most common ways to gain a perspective on your spending is by keeping a picture in your wallet. Every time you look in your wallet to spend, you are forced to look at the picture. Perhaps it's a photograph of your family. Or a picture of your dream house cut out of a magazine. Whatever it is, it should be something that will make you question whether the money you are spending right now is worth being one step further away from your goal.
Trent Hamm used a picture of his son to help him avoid trivial purchases that were moving him away from his larger goals:
"Whenever I pulled out my credit card, I'd see his face, and I couldn't help but reconsider my purchase." @TheSimpleDollar
Rename your savings accounts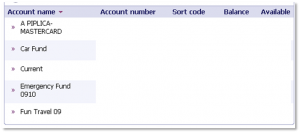 Many banks (especially those with online operations) allow you to rename your accounts. By naming an account for a specific item it can help you compartmentalise your savings, making it harder for you to justify spending them away.
ING Direct allows you do to this by giving your account nick-names. As does Natwest -here's a screenshot of mine —>
Ramit uses his 'sub-savings accounts' for unexpected expenses:
"These sub-savings accounts are incredibly useful for focusing your savings. I've previously written about using them to hedge fuel costs, but in general, it's easier to save for specific goals rather than a guilty, "I should save" account." @Iwillteachyoutoberich
Keep a list of material wants
Many of us spend money impulsively, and there's nothing wrong with that but when it comes to bigger purchases impulsive spending can get you in a lot of trouble very quickly! But if you start thinking a little differently about what you have to do to get what you want, you can work towards having almost anything you want.
For expensive items you need some perspective to  help avoid spending on something you will regret later on. For moderately expensive items I use a 30 day challenge to take the emotion out of the purchase.  If I still want the item 30 days after first wishing to have it, then I buy it. Before then it goes on the  'want list'.
For really expensive things like long distance holidays, house deposits and top of the range gadgets, I have a PowerPoint slideshow document of things that will take me much more than 30 days to save up to afford. This helps me keep focused and motivated on saving for these things consistently over time. You should try it!
Remember,  you can still  grow your pennies and have almost anything you want. You just can't have everything you want.
Open accounts in different places
A physical barrier can make you think differently and help you compartmentalise your finances.
For years I've had most of my savings with my bank but kept some money in a building society account (similar to a credit union for my US readers!). As the money is less accessible this strategy is really helpful for those who find themselves reguarly dipping into their savings accounts for everyday boring expenses rather than using their savings accounts to fund exciting things for the future -which is what growing your pennies is all about in the first place.
Why are you saving?
Saving should be a positive, life-affirming thing to do. It shouldn't feel like you're depriving yourself or stopping yourself from living for today. If you find yourself struggling to save, I hope you find some of these ideas useful for helping you to 'reframe' your savings as something more than the sum of your accounts.  Because saving your pennies have the power to shape your life for the better.
Good luck!
What do you find helpful in making sure you save?  Please leave a comment to share your experiences.