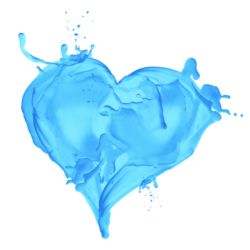 I'm constantly amazed with what the internet is helping people achieve.
We're more connected than ever and it's allowing us all to share ideas, communicate  with like-minded (and differently-minded) people, and see things from thousands of fresh perspectives, in ways the world has never seen before.
If you're not constantly and totally inspired every time you come online, quite bluntly, you're doing it wrong!
Good ideas spread
One of my favourite things about the internet is that, as a revolutionary medium of communication, it can take a little idea and send it around the world almost instantaneously and within moments that idea becomes so much more.
Introducing Love Drop
One great idea that I've recently come across is Love Drop,  a sister project to Love Bomb from It Starts With Us, a site whose goal is to build a global community of individuals focused on making a positive impact in the lives of the people around them.
With Love Bomb everyone comes together once a week to drop hundreds of love bombs (in the form of blog comments) for those who need it most. It's amazing to be a part of the Lovebomb team but there's a new project that will likely have an even bigger impact on the world: Love Drop.
With Love Drop they are taking it to the next level by inviting everyone to be part of a team that goes around dropping unexpected financial gifts on people once a month.
It's community driven micro-giving, and I love it!
The concept really inspires me so whilst I'm not associated with Love Drop,  I wanted to share it with Magical Penny readers.
If you like the sound of changing people's lives one dollar (or pound) at a time,  more information can be found here, here and here.
Learning to grow your pennies through investing is magical but changing people's lives unexpectedly, is where there's true Magic.