Hello and welcome to this week's Festival of Frugality. I'm Adam, your host for the festival this week.
Introducing: Festival of Frugality –Kraftwerk -Video Edition
About Your Host
I've been blogging here at Magical Penny since February 2010 and have been loving every minute of it, especially getting to know the awesome community of personal finance bloggers around the world. And I am looking forward to getting better video editing software for Christmas (!)
Be sure to subscribe.
Who are Kraftwerk?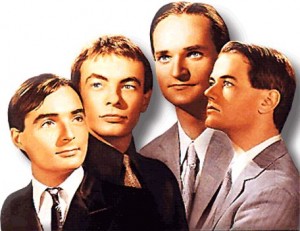 Kraftwerk are a German band formed in 1970 and were one of the first groups to popularise electronic music. For me they are inexplicably linked to personal finance as I discovered their music around the same time that I discovered the personal finance blogging community back when I was at university. Learning about investing and the stock market whilst revolutionary 1970s electronica filled my ears was quite a mix!
For a bit of fun I've attributed a Kraftwerk track to each of the Editors picks and categories in the Festival. For example, the Credit and Debt Section is linked with Kraftwerk's 'Radioactivity': Debt, like radioactivity, can be used as a powerful  tool (for buying a house or go to college for example) but it can also be very dangerous!
Click on each of the song titles at your leisure to listen to track on Youtube
Now on with the main event.
Introducing…
The Festival of Frugality
Top 5 Editor Picks
1) Roshawn Watson presents The Problem with Being Budget Minded is Other People posted at Watson Inc
This is my number one choice because a financial plan can easily crumble if you do not develop a resolve to achieve it, regardless of what your friends and family might think.
Kraftwerk Association: The Hall of Mirrors –at the end of the day you only have to answer the person staring back at you in the mirror for your accomplishments and failures.
2) Lindy presents Boston, Entitlement, and Coffee posted at Minting Nickels.
This article discusses how feeling entitled to something can affect your spending habits. It's in the form of a story about  Lindy and her husband as they got pregnant while in grad school. To me , this is what blogging is all about  -reading about other people's lives and learning from it. Thank you Lindy!
Kraftwerk Association: Neon Lights –the story is a lesson is about being attracted to the neon lights of a big city but if you're not careful you may find yourself living beyond your means.
3) MoneyNing presents Investing In Nostalgia: 5 To Know With Making Money from the Memories of Your Youth posted at Money Ning.
Do you have any toys or collections that you can dust off from your childhood? They could be worth quite a bit of money. Unfortunately, I don't!
Kraftwerk Association: It's more fun to compute–I always found it more fun to play with computers than action figures!
4) J. Money presents Let's Go Dumpster Diving! posted at Budgets Are Sexy.
J is the Man when it comes to making finance fun and I found this post hilarious (and offers a fresh perspective from someone's who's never dumpster dived)!
Kraftwerk Association: Metropolis –Dumpster diving is easier is big cities (and rich suburbs) –you wouldn't believe the stuff some people throw away!
5) Donna Freedman presents The Problem with Being Budget Minded is Other People posted at Watson Inc.
"Hesitating over a purchase, whether it's shoes or a soda, doesn't mean I'm joyless. It means I'm mindful.
I love her approach to frugality -saving where she can so she can spend on the things that matter.
Kraftwerk Association: Aerodynamic –It's a post about streamlining your spending so you can speed towards your financial goals.
Best of the Rest
Interesting Frugal Ideas
Kraftwerk Association: Die Roboter –because robots are interesting ok?!
Warren presents Logistics of frugal living arrangements, or ?Where to put your caravan? posted at Becoming Free . net.  -its certainly a different lifestyle but an interesting post looking at the options.
Kay Lynn Akers presents Host a Sponsored Party for Free Entertainment posted at Bucksome Boomer. I think it's a really interesting idea!
Money Beagle presents Ways We Conserve Water….And Ways We Could Do Better posted at Money Beagle. Part of the Blog Action day.
Craig Ford presents Medi-Share Medical Sharing | A Health Insurance Substitue posted at Money Help For Christians.  -Medical sharing is a great way to reduce your health insurance costs". It's not medical insurance in the traditional sense but based on community sharing of costs.
Investing
Kraftwerk Association: Computer Love–I love how computers can do our investing through automating our saving and investing in the market!
Super Saver presents Retiree Financial Lessons from the Recession posted at My Wealth Builder. An eye-opening read because even though Super Saver was really prepared, life doesn't always go to plan. Save Save and Save some more!
Ken presents Nothing to Invest? Ideas To Help You Find Money For Your Retirement Savings posted at Spruce Up Your Finances.  -I love that there's so many ideas –there's no excuse not to start saving for retirement.
Credit and Debt
Kraftwerk Association: Radioactivity–Like debt it's a powerful tool but can also be very dangerous!
Tim Chen presents Have a Limited Credit History? Avoid These 5 Pitfalls posted at NerdWallet Blog – Credit Card Watch. Thanks in large part to the financial meltdown, credit standards for all sorts of financial products have gotten much stricter. This means that if you want to buy a car, buy a house, or just get a credit card for emergencies, your limited credit could be just as much of a problem as if you had previously declared bankruptcy or walked away from your foreclosed home. This article argues a credit card is a useful tool for a better credit score –just don't get yourself into trouble with it.
Neal Frankle presents Private Career Colleges ? Calculate the Value posted at Wealth Pilgrim: Money Management Advice, Financial Stess Management, Addiction Recovery Plan & Resources. Private career colleges …are they worth it? Neal concludes that a private career college teaches you the skills you need to perform a specific job or launch a small business.
Saving Money
Kraftwerk Association: Pocket Calculator –Frugal moves add up fast!
Miranda presents Get it for Free: Freebie Sites You Can Use posted at Coupon Shoebox Tips.  A great list.
Briana Ford presents 5 Tips for Maximizing Your Travel Savings posted at Go Banking Rates. It's a guest post from frequent traveller and blogger Phil Taylor of PT Money. Phil shares some tips he has picked up recently which have saved him hundreds of dollars on travel.
Kate Kashman presents 2010 Veteran's Day Discounts posted at The Paycheck Chronicles . In America Veteran's Day is coming soon, and vets in your family can take advantage of all sorts of discounts.
Jason presents Free Online Budgeting Tools from Crown Financial Ministries posted at One Money Design. –Can never have enough to help you find the one for you.
Tom @ Canadian Finance Blog presents How to Watch Cheap and Free TV in Canada posted at Canadian Finance Blog. Want to know how to see free TV in Canada? You have a few options with over the air free HDTV, broadcaster's websites and cheap services like Netflix!
Just in time submission: Miss T presents The Hall of Mirrors posted at Boston, Entitlement, and Coffee.
(being the UK and having a 5pm EST deadline for submissions is killer but you made it Miss T!)
Auto
Kraftwerk Association: Minting Nickels–The epic 22 minute track inspired by the German motorway.
Jason presents AAA – Save Some Cash posted at Live Real, Now – AAA is a great way to save some money, beyond getting a free tow.
Joe Plemon presents My Car Needs an Engine. Should I Sell it, Fix it or Junk it? posted at Personal Finance By The Book. What do you do when your beloved car needs an engine: sell it, fix it or junk it? This post explores the options.
Bonus Section -Earning More
PT presents Mystery Shopping for Newbies posted at PT Money. It's a guest post by Penny Saver, a frugal mom making the most of meagre means, saving her quarters to save a quarter of her income and blogging about it at The Saved Quarter.
Important/Serious
Kraftwerk Association: Uranium–Another track from Kraftwerk's album –Radioactivity –dangerous stuff.
FIRE Finance presents Direct Deposit to Bank Account – Handle With Care! posted at FIRE Finance
"First of all let's try this pop quiz: Can anyone take out money from your bank account without your permission? You must be thinking ""How on earth can that can be?"" The next thought might be ""Are these folks crazy?"" Ahh…m, please read on to find out the truth!"
N.W. Journey presents Money Attitudes and the Family posted at Networth Journey Every family thinks about money in different ways. This article helps you develop some healthy money attitudes.
FreeFromBroke presents Credit CARD Act and Its Affect on College Students posted at Free From Broke. The CARD Act made some big changes to way college students can get credit cards. I discuss in this article what students need to know about the CARD Act.
Fun Articles to Finish
Kraftwerk Association: Showroom Dummies–What else but the kooky track "Showroom dummies" about shop manikins coming to live and taking the city by storm!
FMF presents Tacky or Thrifty? posted at Free Money Finance.
Is using a coupon on a first date going too far to save money? –for me it depends on the place and girl. Could play it off as a bit of fun.
June Tree presents How To Save Money On Haircuts posted at The Digerati Life. The pictures in particular made me smile.
Video Bump Music:
Start: Computer World –it was a crazy idea at the time but in 1980 Kraftwerk predicted how large the role computers would play in our daily lives –and here we are, 30 years later, reading the Festival of Frugality on our computers around the world!
End: Tour de France – simply beautiful.
If you enjoyed the carnival and would like more Magical Penny finance fun in your inbox be sure to join the Magical Penny newsletter!
A Thank You
Thanks everyone for all the articles submitted and for reading this far! A final big thanks to Jim Wang for the opportunity to host.
Be sure to check back to the Festival Homepage each week at http://www.festivaloffrugality.com for information on how to submit to next week's carnival.
Regular readers of Magical Penny –normal service will resume on Friday.