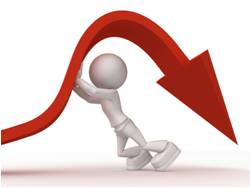 A few years ago in 2010, a work colleague of mine turned to me and said he had just sold some of his BP shares (shares of the oil company British Petroleum).
He had sold them as he was worried about the implications of the huge oil spill in the Gulf of Mexico on his shares. The share price of the BP, the company who was taking responsibility for the disaster, had plummeted recently, and he wanted to 'get out' before the value fell further. He did, however, have plans to buy them again once the shares had fallen further.
For some this market-timing strategy could pay off handsomely, but this is exactly the kind of investing that puts most people off:
Who has time to watch every minute of the news to see if new developments will affect share prices?
Who wants the hassle?
And, who wants to be thinking about their 'portfolio' when they see an oil-spill that's affecting millions of sea-creatures and could have a huge effect on thousands of livelihoods if the spill washes up in Florida's coastline?
Investing doesn't have to be this way despite being *exactly* what most people think of when they hear the word 'investing'.
If you have the time, energy and enough pennies to invest, buying individual stocks can be highly profitable but here are 5 reasons why it's not worth the trouble:
1) Holding company stock –the good and the bad
One of the most common reasons people end up owning shares is because they work for a public company and can buy shares at a discounted rate, or are given them for free.
(A public company is a company that is listed on a stock exchange and shares can be bought by anyone –i.e. a member of the public.  In contrast, most other companies are privately owned)
If you work for a public company and are offered such a deal, you should take advantage of it as it's essentially free money. However you should consider selling the shares as soon as you can –you already depend on the company for your job so relying on the health the company to grow your pennies may be like 'putting all your eggs in one basket'.
2) Expensive investing
Investing in individual shares can be expensive if you are using a broker. The important thing to remember is that the more expensive it is for you to invest, the more your investment will have to perform to get the same return.
More specifically, most of us in our 20s and 30s don't have a lot of money to invest and buying individual shares can be very expensive if you are only buying small amounts: some brokers charge per trade, regardless of whether you are investing £50 or £50,000!
3) Too much fun!
Some people buy shares for the entertainment of watching the price go up so they can then brag to their friends about how much money they're making.
Whilst it certainly is satisfying when an investment goes up in value, you should not be using your investments for fun.
Investing for fun brings emotions into the process, which can lead to poor choices and a rocky emotional well-being. Most notably emotions should stay out of the decision making process as it can lead to taking on excessive risk due to over-confidence in your own abilities.
When it comes to long-term investing, slow and steady wins the race. Find something else to give you your thrills.
4) More control isn't always best
Another common reason why investing in single stocks is appealing is the sense of control it gives you. Whilst this can mean you know exactly what you are investing in, it can lead to lower returns because it's almost impossible to keep up with the market – even the most talented money managers fail to beat the market averages consistently, year after year.
5) It's very risky
The most compelling reason to stay away from individual stocks is that you're unlikely to be sufficiently diversified –meaning having your money spread across different companies in case of disaster. Owning only a few different companies means if one company fails you stand lose a significant portion of your total investment. It comes down to your risk tolerance. Can you afford to lose the money you put into a single stock?
What's the  solution?
There is another way to invest though: a cheaper, more diversified, and easier way that can still give you powerful returns to help grow your savings for the future.
In the UK we call them Unit Trusts (Mutual funds to US readers). If you have a pension at work it's likely you're already invested in them already. These investments hold a variety of stocks together, managed either by an investment professional or collated based on a list of companies in an index (like the FSTE 100 or similar).
As the investing returns are less volatile due to diversification of different company stocks , if you invest in unit trusts rather than individual stocks you won't need to read the Financial Times every day. You can therefore enjoy the returns that investing can bring but still get on with living your life.
And when you hear bad news on the TV you can direct your thoughts and prayers to the people and wildlife affected rather than to the state of your portfolio.