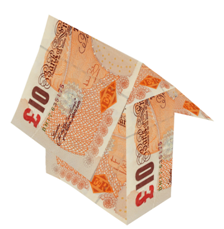 With prices ever-increasing and interest rates on savings so low, setting foot on the property ladder seems an impossible dream for many people.
If you've been reading Magical Penny for a while you'll know that as a single 20 something I'm very happy renting at this time in my life but if you're in a different situation it may be heartbreaking to spend a significant chunk of a house deposit on a year's rent and young families can struggle to find a house they can afford that has a garden for their children.
How does anyone manage to buy their first home?
For the younger generation, relying on their parents is one way of managing to fund a deposit. Certainly that's how many of my friends have started on the housing ladder.
Parents who can afford to are loaning or giving their children large sums of money in lieu of an inheritance to help them buy their first house. Others are letting their grown-up children move back into the family home so that they can save up for a deposit.
Another option is buying with friends or a partner as this reduces the costs as each person can contribute to the deposit and monthly mortgage payments.
Otherwise, the only real option is to start saving as much as possible, as soon as possible. If you're struggling to save consistently you should have a read of some of the many articles about saving money, here on Magical Penny
If you are looking at mortgages for buying a home you have a few options:
Understanding mortgages:
The most common mortgage is a repayment mortgage. Each month you pay back a portion of the amount borrowed, plus the interest for that month. At the end of the term you will have cleared your debt.
With an interest only mortgage, you only pay back the interest owed and at the end of the term, you are required to pay back the outstanding mortgage.
Rates and requirements:
Fixed rate mortgages offer interest which is unchanging throughout the period. If the interest rate drops, you will still be paying the higher rate.
With a variable mortgage, the interest rate will change as often as interest rates do, usually once a year.
As with all mortgages, if you do not keep up with your mortgage repayments, your home may be repossessed.
Tips for buying a home:
Write down your priorities – local schools, transport links, crime rate etc.
Work out how much you can afford as a deposit
Find out how much you can sensibly borrow
Decide how much you can afford to repay each month
Don't forget the associated costs such as stamp duty, surveyors, solicitors etc.
Consider how much needs doing to the property – can you afford a new kitchen/roof etc.