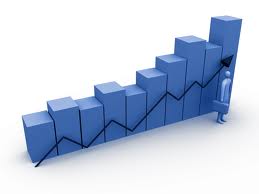 This year could prove to be a good one for small businesses according to a business community website. Enterprise Nation believe that after a few years of difficult trading conditions caused by a variety of factors, things could be on the up again for smaller companies for several different reasons.
Five main reasons were cited for this bold prediction:

The assumption that smaller enterprises would outwit their larger rivals.
Online sales will improve significantly.
Budgets squeezed by lower sales and poor performance in previous years will see firms make the most of what they do have.
Increasing use of mobile technology for sales.
Turnover for small businesses is likely to grow overall.
While all those scenarios aren't certain to become reality, they could all happen, which would be fantastic for small businesses everywhere. In the meantime, there are several reasons why optimism is high among smaller enterprises.
There are one or two signs that the massive uncertainty that has plagued the global economy may be coming to an end. This may provide plenty of opportunity to companies looking to get on the right track and take advantage of any upturn in consumer demand or the fact that distrust of big brands may rise for whatever reason.
Small businesses based in the UK are likely to be among those best placed to thrive in 2013.
Making good use of new technology such as mobile devices and cloud technology, they will be well-placed to have a good 12 months in terms of boosting sales figures and profits. However, they may face some familiar problems, one of them being energy costs.
Gas and electricity have become more expensive over the years, something which many smaller firms are fully aware of. Fortunately, a solution to that problem comes in the form of being able to compare business gas with Make It Cheaper online. The same can be done with telecommunication and internet costs too.
Small firms are likely to make the most of new technology by trying to sell more of their products and services abroad. Thanks to online sales, this is possible. It will enable UK firms to tap into global markets and build a wider customer base that, in turn, could result in higher income and further investment.
Despite that, to boost turnover in 2013, small businesses will have to work harder than ever. This means working outside normal hours, doing extensive research and looking at every possible avenue to generate more income.