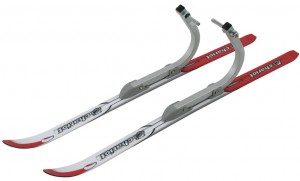 Hitting the slopes is a great way to enjoy yourself over the festive season, so make sure that you take safety into account before you get your skis on.
Having an accident abroad can be expensive and incredibly inconvenient, so make sure you're aware of the steps that you can take to safeguard yourself, particularly if you're going off-piste.
Your essential skiing safety kit should include:
A small backpack for essentials on the mountain – choose something comfortable to wear and lightweight. The contents should include spare gloves, a screwdriver, a bottle of water (at least half a litre if you're off-piste), and an energy snack. Getting on and off the slopes is time consuming, so once you're on for the day you need to have the essentials at hand.
Sun cream and lip block to protect you from burning – reflection from the snow itself is a huge factor, so make sure you're protected.
A small first aid kit to enable you to treat scratches, bumps and bruises
A mobile phone, in case you should sustain any injuries that can't be fixed with your small first aid kit. Smartphones which include satellite navigation or a compass can be very useful too if you're skiing away from familiar routes, and maintaining some form of contact with others is important. It is even possible to find gloves which work with touch screens, allowing you to check your course without having to take gloves on and off.
Health insurance details, just in case of emergencies! Hopefully you won't need this information, but keeping it safe in your hotel room is always a good idea should you need it.
A map. An obvious piece of kit that you'll need, but one that many people forget!
Spare goggles, in case your other pair is scratched or damaged (should you fall, for example). Goggles are absolutely essential for good visibility and protection, so a spare pair is handy to keep in your backpack.
Staying safe will help you to enjoy your winter break, so as well as your ski jacket, boots and hat, make sure you have the above stashed in your case before you jet off!