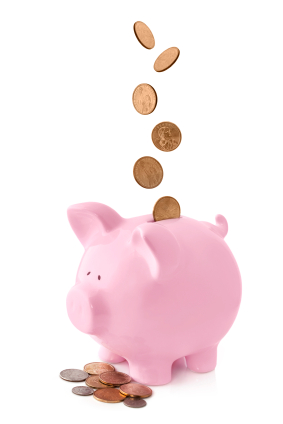 It's the start of the month and it's likely your bank account is looking better now than it's going to look all month. But do you have a plan for your money?
The start of the month can feel good because it's when a lot of people get paid their monthly salary. It's a fresh month and a fresh start. You might have intentions to make this month better than last month in terms of making your money last, or you might even be starting to think about Christmas – it will be here before we know it!
But how can you make your good financial intentions future-proof for the months and years ahead?
You should ask yourself these two questions:
1) Have you asked your bank to set up automatic transfers from your day-to-day account to your savings?
Here's the why:
You might be feeling confident about  your income or the money in your account today, but life can change fast and our state of mind can change even quicker. Good intentions are often short-lived. Why not take the will-power out of the equation and set up some automated electronic transfers?
Here's how to do it:
If you have online banking it's as easy as setting up a 'standing order' (if you're in the UK) from your current account to your savings account. Setting up an automated transfer today will help you emotionally disconnect from the process of trying to save money so you'll be stashing it away for your long-term future.
If you don't have online banking then it is well worth a quick visit to your bank to set it up – get it set up for shortly after you've been paid so you are making a commitment to save every month, not just when you have money left over (as if that ever happens!).
What if you don't have enough money to set up automatic transfers?
If you've living paycheque to paycheque, you might not feel you can afford to save anything each month because there's hardly any money at the START of the month! In this case, it's time for you get intense to give yourself a much-needed 'buffer' of money in your account.
You can do this by working extra hours, cutting back on your spending further, or consider selling any valuable items you might have lying around. With gold prices so high right now, it could be worth selling any old gold jewelery or items you have in your house to give you that much needed boost in funds. You can get money for gold with 62 Days, so in two months time your money plan could be looking much better funded!
The second question everyone should ask themselves is:
2) Have you thought consciously about your spending and created a 'spending plan' ?
Here's the why:
It's easy to tell yourself that you want to spend less on something you enjoy, but if you don't write it down and put some thought into what you are spending money on, then you might end up spending more than you think. Having a 'spending plan' might seem restrictive but once you've tried it you'll find it actually is immensely freeing –you can spend money without guilt as you know you've got everything covered (especially if you're saving consistently and automatically at the start of each month).
Here's how to do it:
Think ahead into October and make a list of everything you need or would like to spend money on and try to stick to it.  You definitely won't stick to it 100% but doing so will raise your consciousness about your spending. And don't try to make a 'perfect' list – make it realistic.  Take the time to *think* about what you'd like to spend your pennies on and you are likely to make some wiser choices this month.
Once you've got your spending plan you might even find yourself being able to afford more things than ever before!
Don't let your spending just 'happen' to you.  Rather, take the time to consciously plan how you can construct your best life with the funds you have available.
The start of the month, right after pay-day can feel great but make sure you lay the groundwork to prosper throughout the year!
It's never as good as today to make that fresh start with your money! Good luck! 🙂