Living without a car can be a great way to save money. Cars can be costly to run and can lead to expensive surprise bills when something goes wrong.
But for many people  having a car is a necessity: from commuting long distances for that dream job;  meeting family commitments, or simply getting sick of waiting in the rain for public transport!
Owning a car should be a conscious choice of prioritisation: you decide to spend money on a car to allow you to live the life you want to live. But once you've made that decision to buy a car it's worth considering your options:
Old Vs New
Buying a new car does have its advantages. You can choose the specification like colour, features like air-con and i-pod audio inputs; they come with no-worry warranty packages so you if anything does go wrong you will not be out-of-pocket getting it fixed; and there are often  'sweetener' deals on offer at the time of purchase to tempt you if the dealer is desperate to hit their sales quota for the month.
Some dealers really do almost give cars away some months because the bonuses they can achieve from hitting sales quotas can mean the difference between profit and loss for the dealership.
Another benefit not to forget is that there is no unknown history to worry about so if you treat your car right it can last you a long time.
My girlfriend's car was bought brand new by her Dad more than 15 years ago. After all these years of careful ownership, the car is still going strong and drives like a dream. Over the long term it's been a very economical purchase

 
So how much is a brand new car going to cost? This number of course is going to vary widely depending on make and model but as a guide, a best selling Ford Fiesta  with 1 litre engine costs between £12,000-£15,000, depending on your negotiation skills.
If you don't have money in the bank you can take out a car loan from reputable companies like Positive Lending and work out the total cost from there. To save you the trouble, as an example, if you got the car for £13,000, and  a car loan at 8%, paid for 5 years, would cost you £15,815.59, with a monthly payment of £263.59.
Some dealerships offer 0% loans reducing the cost further
For more calculations on the cost of car loans, have a play around with the  IMB car loan calculator
Other benefits for new cars are more advanced technology such as better fuel efficiency (where huge advances have been made comparatively recently) and safety features like stability control. Take note: If the emissions are low enough, you don't have to pay road tax!
Buying Used
Despite the advantages of a new car, it can't be argued that new cars are cheaper. Buying Used is a very sensible choice for many, notably because of the money saved by avoiding the depreciation of a new car. It is rare for a new car to still be worth more than half it's purchase price after three years, and many will have lost up to two-thirds of their value.
Look out for used cars that still have a factory warranty for extra piece of mind.
Private purchases will give you better prices than going to dealer, but it takes more work and you have fewer options is something goes wrong down the line. Similarly,  buying at auction will generally be the cheapest but bargains are hard to come by and you may be at a disadvantage if you don't know enough about cars to know their worth.
Car history is the biggest risk when buying used. Ideally, a car will have a complete service history: if not, you can buy some reassurance in the form of a history check.
Just a couple of days ago I bought my first ever car. Thankfully I didn't have any of the history worries as the car was formerly owned by my parents and had meticulous records of everything that had been done to it. I'm not a car expert myself so this was reassuring for me.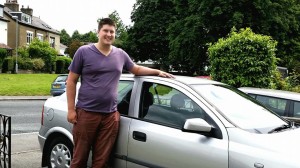 A Third Way
Besides new or used, there's a third way into car ownership – buying a nearly new car, either from a dealer's demonstration fleet, or from 'pre-registered' stock (cars that have been notionally bought by the dealer in order to meet sales targets).  You could also try looking for cars that are only 1 or 2 years old. Buying nearly-new can be the best of both worlds. You end up with a modern, fuel-efficient and safe car, but buy it after it has already depreciated significantly from new. The extra name on the registration document  will lower the car's resale value and you don't get as much as choice as when buying new, but for many it's worth the trade.
In Summary
The key thing to remember when buying any car is make sure it's a conscious choice: work how much you are willing to spend, and if you require a car loan, make sure you understand the costs.
Newer cars may seem more expensive, and they are, initially, but if you consider other factors like fuel economy and warranties , the difference might not be as huge as you may think. The re-sale value of newer cars is also higher.
Happy Driving!