Do you ever a get a thrill when you ace something you did at the last minute?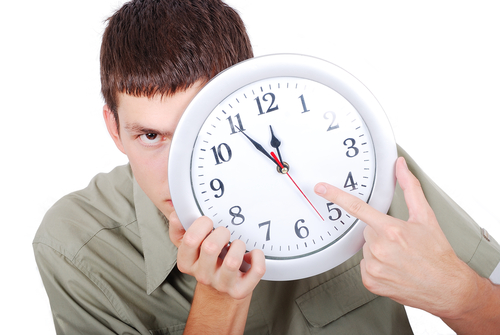 If I'm really honest with myself, I do.
I've told myself that I do my best work at the last minute, and it's such a thrill when it pays off.
For example:
The 1st class essay I wrote at university during an all-nighter on the day of the deadline;
The huge solo I sung having learnt the music only a few hours before the performance to hundreds of people;
Finding the *perfect* gifts the day before Christmas…
The outcome of all of these things were very important. The essay was a significant part of my degree; a performance mistake in front of audience would be devastating; and turning up on Christmas day without presents…it doesn't bear thinking about.
And yet, I left these things to the last minute –and pulled it out of the bag when it mattered!
Sounds good?
Maybe, but on reflection I think it wasn't just my lightning fast typing skills, amazing musical talent and high-street shopping knowledge that got me through. Lady Luck must have been working overtime those days.
It's fun to think I saved time by waiting until the last minute to write the essay, learn the music and buy Christmas gifts. But did I really 'save' time? Could I have done *even better* with a  little less desperation and a little more preparation?
Starting On Something That Can't Wait
It's hard to tell the effect of an extra few hours of preparation could have made but one thing where the impact of preparation is not in question is when it comes to saving for retirement.
Whilst you or I may be able to do a lot of things at the last minute, one thing we can't do last minute is retirement saving.
I may get a thrill knowing that it's make or break time when I'm writing an essay but I doubt I'll have the same thrill if I were to get to middle-age without any long-term savings for when I'm unable or unwilling to work all the hours in the day.
Even with all the motivation in the world, it would be near impossible to catch up to the saver who started in their 20s rather than their 40s.
No Excuses
Starting to save for your 60s when you're in your 20s isn't always easy. Most of us are earning less than we'll ever earn in our lives; have student loans we need to pay off and a long list of major purchases waiting just ahead of us: cars; housings; weddings. As many of my friends will be able to confirm –none of these things come cheap!
But you still need to start saving for retirement now because there will always be something else around the corner that needs to be paid for, and you will be in your 40s and 50s before you even realise. Retirement saving is valid even if you have loans, are saving for a house or a wedding.
The Magical Of Compounding Returns and the Power of Momentum
If you've read Magical Penny for any length of time you'll know that compound interest, the concept that inspired the site, is a wonderful thing and can turn modest savings in our 20s into vast sums in a few short decades.
But there's something even more powerful about starting to save for retirement now rather than later –it demystifies the process and allows you to build momentum to save more.
For example –when I was procrastinating on starting that essay at university I built it up into a big deal. I would have to read dozens of sources, research concepts and plan my approach. It was a daunting prospect and when I eventually made a start I  found it wasn't so bad after all. I did however wish I had started sooner.
Similarly with retirement saving –it seems complicated. I bet most people don't even know where to start, if they even know that they should be starting to save in the first place!
But once you've spent a little time setting things up it will be much easier to ramp up your savings over time as you hopefully grow your income each year.
Convinced? Here's what to do.
If I've convinced you that saving for retirement is one thing you really can't do at the last minute; that you should be starting today; then here's what you should be doing:
If your employer offers to 'match' or contribute to a pension scheme you should definitely do it. Not only does it reduce the amount of tax you pay each month, but your employer is giving you extra money! You may not be able to spend it until you are at least 55 but it's definitely all yours.
Don't worry about opening a pension or retirement account straight away. If you're in the UK start saving money in a normal savings account or an ISA. Keep it separate from your other savings accounts though –remember- this money is for your long term future, not to be spent on next summer's holiday, or even a house deposit. It's for when you're old and wrinkly!
Once you've proved to yourself that you can contribute consistently to your long term savings you'll soon be ready to make your money work for you through investing. In the UK you can do this through a personal pension or simply stick to a stocks and shares ISA. If you're in the US a Roth IRA is perfect.
Remember, a pension is just like a Water-Proof Envelope that holds whatever investments you want to put inside it and stops them from getting 'rained on' by taxes. If you're in your 20s when you're investing you can afford to take on more 'risk' for the hope of a bigger return in the future. We'll cover how to invest in later posts on Magical Penny but for now, congratulate yourself that you've got some money put away for the future and you'll never have to start at £0 ever again.
Read the full Pensions Series on Magical Penny
Get Ahead by Getting Ahead
It's never too early to start saving for retirement. The preparation you do for your future self today can mean the difference of tens if not hundreds of thousands of pounds over the course of your lifetime.
Knowing that I have been saving for retirement since the age of 21 gives me an amazing sense of empowerment. I've taken control and by being diligent about my financial future it will allow me to live increasingly on my own terms as I get older. I hope you're inspired to take control too.
Now, as I write this blog-post at midnight on the day I've scheduled to blog, all I have to do is work on not blogging so much at the last minute!