Hello and welcome to this week's Carnival Of Personal Finance. I'm Adam, your host for the festival this week. Click the play button for a quick video introduction to the carnival!
Introducing: Carnival Of Personal Finance –International Pi Day Edition
About Your Host
I've been blogging here at Magical Penny since February 2010 and have been loving every minute of it, especially getting to know the awesome community of personal finance bloggers around the world.
Be sure to subscribe and read more about Adam
The Carnival Theme: International Pi Day!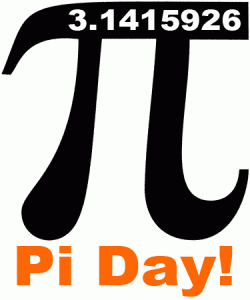 Pi, Greek letter (
), is the symbol for the ratio of the circumference of a circle to its diameter. Pi Day is celebrated by math enthusiasts around the world on March 14th. Pi = 3.1415926535…
Personal Finance is about making your numbers work for you, so what better theme for the carnival of Personal finance!
With the use of computers, Pi has been calculated to over 1 trillion digits past the decimal. Pi is an irrational and transcendental number meaning it will continue infinitely without repeating. The symbol for pi was first used in 1706 by William Jones, but was popular after it was adopted by the Swiss mathematician Leonhard Euler in 1737.
Introducing…
The Carnival of Personal Finance Editors Picks
I'd like to start off the Carnival with a story Trent Hamm from The Simple Dollar, shared called: Putting Food on the Table When You Can't Make Ends Meet. This poist hit me like a ton of bricks. Whilst the rest of the carnival is really interesting and the information can help us all with basic and higher level finances, it's really important to remember how lucky we are and be proud of our achievements so far. Trent's article really gave me some perspective and made me grateful I have the luxury to improve my own finances from a level far above those of someone struggling to put food on their table. Thanks Trent.
Moving on,  I love the topic of mental accounting so was thrilled to read Well Heeled Blog's article: The Traps of Mental Accounting: Why We Treat Money From Different Sources Differently. As an introduction Mental accounting is what happens when you treat $1,000 that you receive as part of your regular salary differently than the same amount from a bonus or a winning lottery ticket. Interesting stuff.
Again with the mind games I loved this article:  The Psychology of Delayed Gratification: How To Save Even When You Don't Want To, over at the site: High Yield Savings Accounts. The article explains that delayed gratification is almost an art – but it's one that is worth learning because it can pay dividends in the long run. Money is all about psychology, remember that!
I enjoyed RJ Weiss's article on Gen Y Wealth: Are You Making These 2 Common Financial Mistakes? (Because I Am). The purpose of this post was to define two different financial mistakes made daily, that can cost us all a lot of money.
I couldn't NOT include the shocking story J Money shared with readers of his blog: Budgets are Sexy: The J-True Hollywood Story: Owed ,000 in 401(k). Shocking but entertaining stuff. Good luck J getting it all sorted -I'm sure you will!
Rounding off my editor's pick is Bret from Hope to Prosper with his article: Freedom's Just Another Word for Nothing Left to Lose, He explains "In this economy, so many people are crying the blues. So, I thought I would pass along some uncommon wisdom from a lady who wasn't known for her financial prowess."
Financial freedom is something we are all striving for but this post does a great job of reminding us why we want financial freedom and that even in the journey we all have a lot to be thankful and happy for.
Some good reading there but below is wealth of other articles that I enjoyed reading and thought worthy of being in the carnival.
Close Seconds that didn't quite make the Editor's Pick but are still great:
Elizabeth (Modern Gal) from Modern Gal presents Financial Lessons I Learned from Japan.  A timely and thought-provoking post.
Sandy from Yes, I Am Cheap presents Dear Direct Student Loan Servicing, I Hate You, and says, "Dealing with the student loan people makes me want to bang my head against the wall." Student loans! Student Loans! Remember, you may need them but you *will* need to pay them back.
Len is such a dare devil when it comes to buying his fruit and veg: Len Penzo dot Com presents Why It Sometimes Takes A Real Daredevil to Get the Best Deals. You crack me up, Len!
Finally, I love this one as it discusses how we assign our money to different things in our heads.
Nicole from Nicole and Maggie: Grumpy Rumblings presents Is paying your mortgage a waste of money?, and says, "Grumpy rumblings explains how the mortgage payment is part-savings, part-interest. Once you're done, only the part of the payment that was going to interest is new free money."
Best of the Rest
Saving
Matt Bell from Matt About Money presents Can't Build Savings? I Say, You Can, and says, "There are lots of excuses for not building savings — some legit, some crazy. In this post, I argue that many people who think they can't build savings probably can."
Real Estate
Eric from Narrow Bridge Finance presents Reasons I Am Looking to Buy, and says, "I am considering buying a home, but maybe I should rent?" I found this particularly interesting as I'm also a 20 something guy. Oer
Glen from Free From Broke presents Ways a Bigger House is More Expensive (Besides the Mortgage), and says, "The mortgage isn't the only thing you should worry about if you are moving to a bigger house. See some examples of other expenses you can expect to go up."
Ryan from Cash Money Life presents Deciding to Sell Your Home in a Down Market, and says, "My wife and I decided to sell our home in a down market – which netted us a $50,000 loss. But also a potential buying opportunity when we make our next home purchase."
Budgeting
Mike from Green Panda Treehouse presents Handling Your Finances – How to Make a Budget, and says, "Learn to make a budget."
Nicole from The Budgeting Babe presents Getting Back on Budgeting Track, and says, "Getting financially healthy is like fitness: sometimes the biggest hurdle is getting over ourselves. But once we start moving, even just a little, it becomes ever easier to achieve success. "
Ryan from The Military Wallet presents Why You Need to Put Your Budget on Paper, and says, "It's easy to think you have a budget that works, but if you aren't actually committing that budget to paper, you may be selling yourself short."
Pfblogger from Personal Cents presents Budgeting Sacrifice. Personally I find that its better to not think about doing without, but to think of the awesome stuff you're setting up for the future.
Taxes
Neal Frankle from Wealth Pilgrim presents Early IRA Withdrawal With No Penalty — 72(T) Rule Explained, and says, "Let's say you want to retire now but you need more income. If you'd like to tap into your IRA earlier than 59 ½ and not pay any tax penalties, you can.
Networth Journey from Networth Journey presents 4 Best Ways to Use Your Tax Refund, and says, "Be sure to use your tax refund wisely.
Money Walks from Money Walks presents Tax Deductions for Being a Good Samaritan. Interesting take!
Ken from Spruce Up Your Finances presents What To Do If You Lost or Still Have Not Received Your W-2 Form, and says, "You need your W-2 to file your taxes. What happens if you misplaced or still has not received it? Here are the 3 ways that you can do in order to file your tax return!"
Economy
Crystal from Budgeting in the Fun Stuff presents Are your food costs rising?, and says, "Gas, milk, dairy…when there's trouble overseas, it seems every cost spikes up in price. Is this the doing of global political and religious turmoil, or just greedy companies taking advantage of a recovering economy." We're all one world and in the age of globalisation, can more easily be affected by events the other side of the world.
Money Thinking from Money Thinking presents Oligopoly vs Monopoly: More than just a board game,
Career
FMF from Free Money Finance presents Thirty-Second Introduction, aka an "Elevator Speech", and says, "For people who don't know you well, you will want to condense your situation into a one-paragraph narrative that can be used in an email or said aloud in a telephone call or even a social setting. The classic version of this piece of personal branding is known as an elevator speech. Suppose you stepped onto an elevator and glanced over at the ID badge of the person next to you, and it read "VIP." Maybe the person is the CEO of the company you work for, or want to work for. What could you say in the brief time you are together that could change your life, and hers? That's an elevator speech."
Dr. Dean from Millionaire Nurse Blog presents Extra Income as a Nurse: 38 Ways!, and says, "There are really only two ways to increase wealth: Make more or spend less. Here are some lessons in making more money as a Nurse."
Tom Drake from Canadian Finance Blog presents Earn More By Upgrading Your Resume, and says, "Upgrade your resume. Yes, by upgrading your resume, you have the opportunity to improve your career and increase your income in a number of ways."
Janet from Credit, Eh presents Could Your Credit Report be Hurting Job Prospects?, and says, "Your credit report is considered an indication of your fiscal responsibility — and even your level of responsibility in other areas of your life. Indeed, you might find that even your employer is interested in what's in your credit report."
Diva from Diva In Debt presents Finance Book Review for Women: Shoo, Jimmy Choo!, and says, "This a review of a personal finance book targeted at women."
Investing
The first article is a basic list but it's important. You definitely should doing these things:
Andy from Saving to Invest presents 6 Things You Should Be Doing With Your 401K, and says, "With markets back up strongly and the 4economy improving, folks must not forget to restart or continue saving for their financial futures by taking these basic actions"
Pat S. from compounding returns presents Roth IRA, 401(k), and Roth 401(k) Plans, a breakdown of the best possible vehicle for the tax deferred investor.
Mike from The Dividend Guy Blog presents Commodities Vs Companies, and says, "Why I prefer companies over commodities when it comes to investing my money." I'm inclined to agree but if you don't leave a comment!
IS from Intelligent Speculator presents Is Facebook's Billion valuation getting out of hand, and says, "We look at Facebook's valuation."
Mike from Experiglot presents ETF Asset Allocation Applied To The Ivy Portfolio – A Detailed Example, and says, "We go into details of ETF asset allocation and what you need to know."
Squirrelers from Squirrelers presents Investment Bubbles: From Dutch Tulip Mania to Housing, and says, "Investment bubbles have occured many times over the years, and this article discusses examples of such situations while pondering what's next for gold."
D4L from Dividends Value presents List of 195 Dividend Stocks Every Income Investor Should Know About, and says, "In 2009, I introduced the Stock Ideas list and it has proven to be immensely popular. The list consists of Dividend Aristocrats, US Broad Dividend Achievers and U.S. Dividend Champions. Duplications in the above lists are eliminated and stocks are crossed out when I learn that they have either cut their dividend or fail to raise it. Here is some information on each of the constituent lists and some highlights on this year's changes:"
Darwin from Darwin's Money presents How to Figure out Correlation of Asset Classes, and says, "Here's a handy guide to figuring out correlation of various asset classes like stocks, gold, oil and more. It's key to understanding if your portfolio is REALLY diversified!"
The next post is more about investing in yourself. I've certainly followed a similar path and found it profitable, although with most things there certainly is an element of risk. At least with yourself you have more control and accountability.
Mike from The Financial Blogger presents You Must Spend To Earn, and says, "Why you must spend money to make money."
Clariity from Living With Clariity presents What is Investing?, and says, "Investing initially sounds simple, but to educated person can often be complex. Here is investing in it's simplest terms: growing your money. "
I liked this because not only did the article detail what investing is, but it also went through a few things that are NOT investing (like a 401k…) Intrigued?
Sean Smarty from Growing Money presents Investing: Are You Looking at the Big Picture?.
Finance
Barbara Friedberg from Barbara Friedberg Personal Finance presents Get Rich; Develop 4 Wealth Habits, and says, "The wealthy have some traits in common. Cultivate these behaviors and up your chances of achieving financial security."
Frugality
Bob from ChristianPF presents 0 a month you might be overlooking, and says, "Is $500 slipping through the cracks? Find out if it's happening to you! The answer might surprise you . . ."
FIRE Finance from FIRE Finance presents Top 5 Ways To Trim Our Grocery Bills, and says, "We decided to optimize our grocery expenses and pull the strings on our food budget even tighter. So we spent some time researching on ways to cut down our grocery bill. In the process we discovered some fascinating facts …
Craig Ford from Money Help for Christians presents Are Kids the Victims or Victors in Frugal Homes?, and says, "An analysis of how frugality impacts children.
Money Management
Miss T from Prairie Eco-Thrifter presents Anatomy of the Financially Savvy Brain- Part 1, and says, "Ever wonder what is actually happening inside our brains as we plan our money management strategies, bravely stave off impulse spending , and work towards that end goal of financial freedom? This series will answer those very questions."
Kim McGrigg from Blogging for Change presents Talking to creditors about unemployment
Junior Boomer from Consumer Boomer presents Accelerated Mortgage Payments, and says, "If you are interested in paying off you mortgage sooner let's take a look at accelerated mortgage payment options.
Revanche from A Gai Shan Life presents Commentary on the game Spent, and says "
When you have an adequate cash flow, when you have any cash flow, you can absorb some smaller needs, and then only the significantly unexpected, or the "bad luck" stands out"
FruGal from FruGal presents Mother Miser: The OM of money,
Jason from One Money Design presents Pocketsmith Money Management Software Review, and says, "I recently discovered Pocketsmith money management software that uses a unique calendaring feature to budget and track spending."
Michael from The Dough Roller presents The Consumer Protection Financial Bureau is Here to Help, and says, "When financial reform was passed, one of the protections put in place for consumers was the Consumer Protection Financial Bureau. "
Debt
Bogey from Back Nine Finance presents To Build Wealth, Pay in the Past or Present – Not the Future (Most of the Time), and says, "This article discusses the tendency of Americans to only consider the monthly payments involved when making large purchase. I urge people to think about their "future self" and pay either with money earned in the past (savings) or the present (current cash flow) instead of committing future cash flow which is not guaranteed. "
Charles from CreditDonkey Tips presents 10 Things Not to Tell Your Parents about Your New Student Credit Card, and says, "10 financial mistakes every college student should avoid with their credit card."
Jeff Rose from Good Financial Cents presents Should You Use Inheritance to Pay Off Debt?, and says, "If you are in debt and are about to inherit money you need to read this article BEFORE you do anything with your new found wealth. "
Chris Holdheide from Stumble Forward presents 3 Debt Settlement Scams To Watch Out For, and says, "If you planning on getting invovled with a debt settlement company you will want read this first."
Jason from Live Real, Now presents Living in Debt: How I Sacrificed My Future, and says, "This is the story of how and why I buried myself in debt."
Marjorie from CardHub.com presents Statute of Limitations for Credit Card Debt, and says, "There are a number of important factors about credit card debt that many people are unaware of, including the concept of a statute of limitations. The best way to manage your debt is to fully understand the laws surrounding it."
mbhunter from Mighty Bargain Hunter presents Your home mortgage debt is not an asset, and says, "I have no idea how mortgage debt can be viewed as an asset, but some people think it can."
John from Wallet Blog presents Paying Taxes on Debt? You Have Got to Be Kidding Me. This post explains why and how you can be taxed on your credit card debt. Managing debt can be very overwhelming, especially when you're not aware of all the regulations surrounding various debt management solutions.
Kevin from Moolanomy presents A Review of Dave Ramsey's Baby Steps To Financial Freedom, and says, "We review each of Dave Ramsey's baby steps and discuss the good and bad… and what you might consider doing different."
Other
Clint from Accumulating Money presents http://www.accumulatingmoney.com/5-ways-to-save-money-on-car-insurance/
Investor Junkie from Investor Junkie presents The Ten Best iPhone and iPad Financial Apps.
Outlaw from Outlaw Finance presents How Much is Renters Insurance Per Month?, and says, "Think you can't afford renters insurance? Think again. It's not that expensive and it's very prudent."
Philip from PT Money: Personal Finance presents How to Write Your Own Will Free, and says, "If you can't afford a lawyer or a will maker service, do your own will for free with a downloadable form. Something is better than nothing."
A Thank You
Thanks everyone for all the articles submitted to the Carnival of Personal Finance and thank you to everyone for humouring me in my celebration of International Pi Day!
I'm sorry I couldn't include all the articles -I tried to ensure a good mix of the best ones submitted.
Your treat for reading all that?
How about looking over the first 1 millions digits of Pi?

For occasional and relevant updates about the site and extra articles and resources to help you do a better job of your money, join the Magical Penny email newsletter below (honestly no more references to Pi until next year!)